With only a few weeks into 2022, Samsung South Africa launched its new lineup of Galaxy smartphones. The Samsung Galaxy S22 range was revealed across the globe as well as locally on 9 February 2022 and officially on sale from 10 March. As has been the norm in recent years, the brand announced a trio of smartphones for the latest flagship range. I spent time with the popular Samsung Galaxy S22 Plus.
The latest Galaxy S range was launched just a few weeks after the Fan Edition of the previous range reached our shores. The Galaxy S21 FE delivered solid performance at almost half the price of the flagship range. While there are definitely prospective buyers on the market who want nothing less than the latest and greatest, irrespective of price, there are even more looking for a balance between next-generation features and reasonable price. So, how does the Samsung Galaxy S22 Plus fit into this classification?
Samsung Galaxy S22 Plus Build and Design
In recent years, Samsung has remained fairly conservative when it comes to their design philosophy. The old adage of "if it's not broken, why fix it?" applies here with the Samsung Galaxy S22 Plus. The form factor has remained largely unchanged as a result. And I'm not slating the brand for that, as there isn't much in the way of change on a rectangular slate we haven't yet seen, which would only mean to go back to one of its previous designs, which wouldn't be ideal.
Most of the changes in recent years has been the configuration of the rear-facing cameras, including the housing or island it's located on. Unlike the previous generation island, with its gold colour that wraps around and links to the frame edges, it has the same colour as the rear and isn't connected to the rest of the frame. It's a lot more minimalistic in its approach and, in my opinion, is better for it. Interestingly, on the Ultra variant, the camera island is completely removed.
There are four colour options to choose from for the Samsung Galaxy S22 Plus. This includes Phantom White, Phantom Black, Green and Pink Gold. I received the Phantom Black unit for review, which is arguably the best from the range. It looks very clean and with its matte finish on the rear and glossy sides, it has a unique feel. Its matte finish is also less prone to fingerprint smudges, which I was really pleased about. Typically, brands claim to have nailed this aspect but you'll often find there is only a slight reduction. However, with the S22+ there was barely any smudges during an average day's use.
I had a worry initially about the glossy edges, that the unit would be prone to slipping and dropping. That said, over the weeks of review, it only fell out my hand once, although not in relation to it slipping in the conventional sense.
It is worth pointing out that the unit is also very robust. Even if it were to slip more frequently, it holds up quite well. I had dropped the phone once or twice from my hand, knocked it into a wall a couple of times, fallen off the couch and many other bumps, knocks and falls. All of this and the only thing visible is a small scratch on the bottom corner. It has really stood up to quite a bit.
For many looking for glitz, glam or a major overhaul of the Galaxy S range here, you won't find it. It may appear as boring in this sense but it isn't. With a solid build quality, streamlined appearance a few other tweaks, Samsung has optimised this design phase for its smartphones. Needless to say, usually when a brand gets this right, it very often attempts to go big and bold on the next iteration. It really doesn't need to, the design would definitely hold up for another year or two, with a few tweaks on narrowing the camera island, as an example.
Samsung Galaxy S22 Plus Screen and Display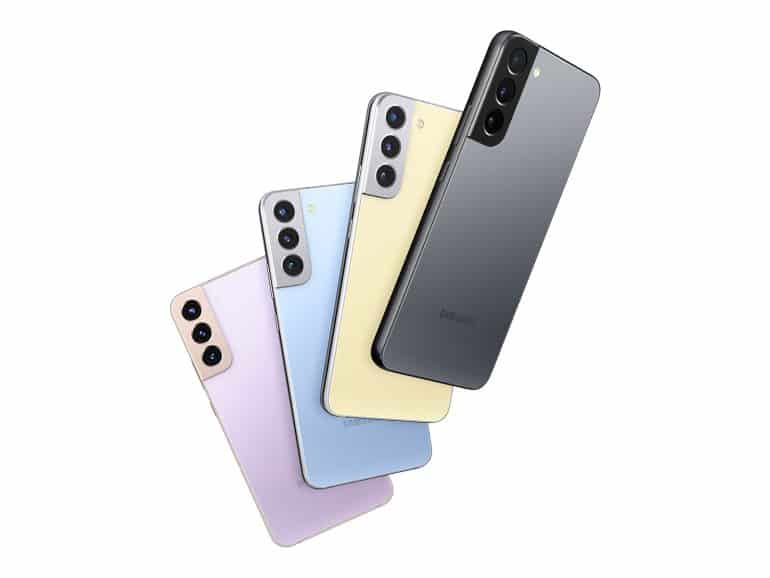 As is always the case over the past decade, Samsung has delivered again when it comes to the screen of the Samsung Galaxy S22 Plus. What's great about new S22 range is that the same panel is featured across all three devices. The only difference is that on the standard S22 doesn't have the same peak brightness. The S22+ and S22 Ultra, however, have the same panel, although the latter being a bit larger.
The panel in question features a Dynamic AMOLED 2X screen with 120Hz and HDR10+ support. It has a 6.6" screen size and an 88.3% screen-to-body ratio. It is fairly large and has the same ratios as the previous-generation smartphone, although down from the S20 range.
One of the standout features on the new panel is the brightness levels. With a peak of 1,750 nits, it is really bright. And you can tell this when viewing it indoors and turning it up to max. It's almost too bright when using indoors as a result – a good problem to have, mind you.
When it comes to the resolution, it comes in at 1080x2340px. This means that it has a 393ppi pixel density. Again, this pixel density is similar to the previous units. Lastly, on the specifications, it features Corning Gorilla Glass Victus+ screen protection. As I mentioned previously, the unit could take quite a beating in terms of being knocked and dropped.
While quite a few of the previous Samsung smartphones rely on oversaturation to boost colour reproduction, that isn't the case here. You can still boost the colour boldness in the settings but the default settings are just perfect. Colours are crisp and visuals are clear. It feels soft and lifelike while also being able to enhance images seen on other devices as average. It really works well in this regard.
As a mobile gamer, the range also has you covered. The Samsung Galaxy S22 Plus supports a 120Hz refresh rate, which means that you'll really be able to immerse yourself in games that support this. Additionally, it also offers a 240Hz sampling rate, which means that it picks up finger touches a lot quicker than is conventional. For both the visual and touch sensitivity on the S22+ the unit has you covered.
The 120Hz refresh rate also comes in handy when scrolling and viewing animated effects in general use. It does offer an adaptive mode alongside the new AI for the processor, meaning that it shouldn't draw as much power as previous-generation Galaxy smartphones.
Specifications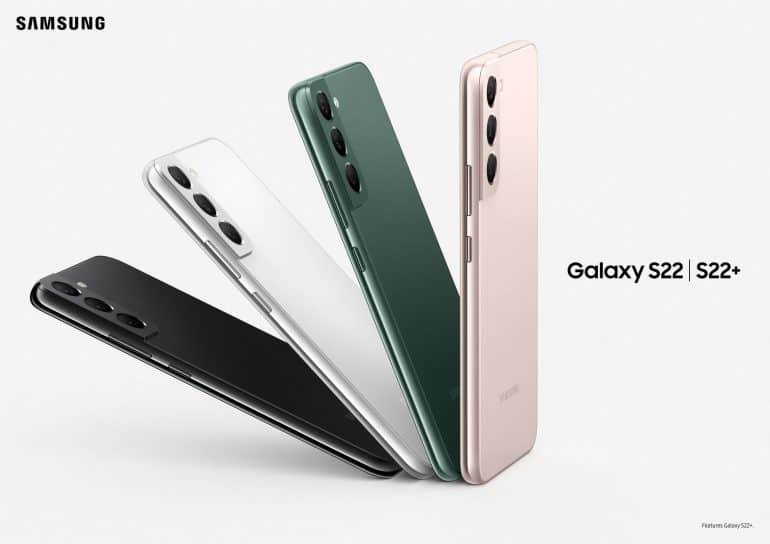 As was most often the case in recent years, the South African variant of the Samsung Galaxy S22 range features the Exynos processor. It may seem trivial but most non-European markets for the same device includes the Qualcomm SoC instead.
The S22+ features an Exynos 2200 SoC with a 4nm chip. It has an Octo-Core CPU configuration, which includes a single 2.8GHz Cortex-X2 CPU, x3 2.50GHz Cortex-A710 and x4 1.8GHz Cortex-A510) CPU. This is coupled with an Xclipse 920 GPU.
In addition to that, the Samsung Galaxy S22 Plus runs on Android 12 OS, coupled with the One UI 4.1 firmware. It has a 4,500mAh battery, which has a 45W fast-charging support. Then it also has an IP68 dust/water resistant (up to 1.5m for 30 mins).
In terms of the rear-facing camera:
50MP, f/1.8, 23mm (wide), 1/1.56″, 1.0µm, Dual Pixel PDAF, OIS
10MP, f/2.4, 70mm (telephoto), 1/3.94″, 1.0µm, PDAF, OIS, 3x optical zoom
12MP, f/2.2, 13mm, 120˚ (ultrawide), 1/2.55″ 1.4µm, Super Steady video
The front-facing camera is a single unit, sporting a 10MP lens with f/2.2, 26mm (wide), 1/3.24″, 1.22µm, Dual Pixel PDAF.
Performance and Battery Life
With the year-on-year increase on hardware capabilities, there's less worry about being able to run various apps and games. This includes multitasking, performing daily tasks, creating content and editing it. It just works. I had no issues throughout the month of use, being able to transition between modes on a whim. Not once during this time was there any lag, bugs or anything in between.
Further to this, I would only restart the Samsung Galaxy S22 Plus about once a week or so. Currently, the device has been powered for more than a week, only restarting to perform a firmware update. This means that the software, too, works while alongside the powerful hardware.
The new Exynos processor doesn't provide world-beating results when it comes to benchmark testing. However, it does a lot better than previous Galaxy smartphones when it comes to efficiency, AI support and quite a lot more. It works together a lot better as a package, rather than simply throwing more power to an issue trying to be resolved. And this is where the real difference comes in. The fluidity of the daily experience is very good.
Battery life has also been enhanced. The 4,500mAh battery can easily last the day. At times, I would only charge once every two days or so when under normal use. However, being a bit of a power user, I'm more likely to charge the Galaxy S22 Plus daily. Using email apps, social media, content creation and more in a single day, I get through quite a bit on my phone without needing to worry about having the charger nearby.
Samsung also offers 45W fast-charging on the Samsung Galaxy S22 Plus. However, you will need to purchase a supporting charger for this, as it's not included in the contents. I wasn't able to test this feature as a result, with my conventional fast-charging taking about 70 minutes to fully recharge the device. A few scans on the internet indicate that the 45W support will offer a sub-50-minute charge time. Users can decide whether that extra 20 minutes is worth the additional cost of a new charger.
Camera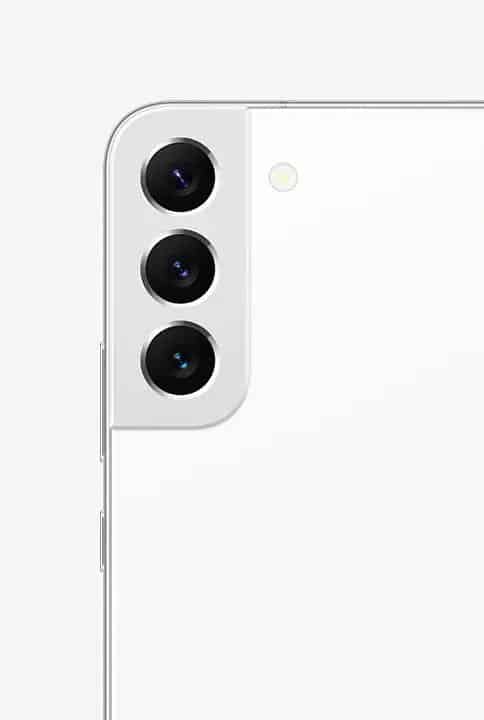 I mentioned in the Specifications section that the Samsung Galaxy S22 Plus features a tri-lens camera configuration. This is the wide lens, main camera at 50MP, the telephoto at 10MP and ultrawide as 12MP. Each of these works together seamlessly to create the best experience, irrespective of the shot.
The Ultra unit has an additional 10MP periscope lens, which offers 10x optical zoom. On the S22+ it is limited to just 3x optical zoom. The zoom, along with 50MP resolution image is good enough for any smartphone. If, however, you're looking to take a lot more shots of wildlife or distance objects while out and about, then the Ultra may be better suited. Although, if you're going to be doing that in the first place, you may be equipped with a DSLR already.
The camera uses quad-binning to produce a more details and accurate image quality. Results look clean and crisp irrespective of the time of day. What impressed me quite a lot is just how much of a difference the night-mode shots, both still and video, appear compared to previous units. It looks great.
A lot of this is also down to better software optimisation within the smartphone and use of AI, which is becoming more complex the more powerful the processors become.
Samsung also offers quite a few options for editing of images and video. I particular enjoyed using the creative options using the Highlight Reel. Simply select a few video files in order of appearance and press the button, and it produces a short reel of less than 60s to add to your socials. This includes music, editing and the likes. It's really nifty.
For the more professional users out there, the Samsung Galaxy S22 Plus also offers Expert RAW 16-bit capture, allowing you to better edit your images when downloaded from the device to your PC.
Conclusion

Unlike more conventional review periods, the extended use with the Samsung Galaxy S22 Plus allowed for a much better opinion of modern smartphones that I had previously. With the notion that I could perform the same functions with similar performances with my near three-year-old smartphone in comparison to any new smartphone, this perspective has changed over the past month. Yes, I'm still able to perform the same functions but not nearly as effortlessly as with the Galaxy S22 Plus. From its payments, multitasking, DeX and many daily drivers, there's just no comparison. This is also true when it comes to more hardware-based tasks such as taking photos and capturing videos for content creation.
What's also great about the new range of S22 smartphones is that the price, year-on-year, hasn't differed much over the previous generation. In fact, you can find a few deals on the market with a sub-R17,000 price tag for the Samsung Galaxy S22 Plus, which is a very solid price. So, if you're still hanging onto that old smartphone, hoping it would have the legs to keep going for a little while longer, it may be time to reconsider.
The Review
Samsung Galaxy S22 Plus

PROS
Great display, as always
Very good battery life
Improved low-light capture
45W fast-charging
CONS
No great design updates
Speakers lack oomph
Review Breakdown
Ease of Learning


0%

Ease of Use


0%

Design


0%

Performance


0%

Enjoyment


0%

Value For Money


0%